VOLUNTEER ORIENTATION / TOURS
Open Door Mission would love to have you join our volunteer team!
Volunteers are an integral part of day-to-day operations serving the hungry and homeless. Your help becomes HOPE!
Join us for a one-hour presentation and optional tour for a COVID-19 update, volunteer self-scheduling instructions, and information on the different opportunities to be safely involved at Open Door Mission!
Please meet at the Permanent Supportive Housing Building, 2205 East Locust Street, Room 124.
You are welcome to bring a guest that may also be interested in volunteering at Open Door Mission.
Complete the form below to sign up for a Volunteer Orientation / Tour!
AVAILABLE DAYS FOR ORIENTATION / TOUR
Saturday, September 25
9:30 AM
Thursday, September 30
6:00 PM
Saturday, October 9
9:30 AM
Thursday, October 14
6:00 PM
Thursday, October 28
6:00 PM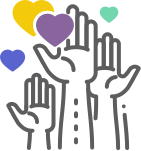 More Information
Please contact the volunteer department by email volunteer@opendoormission.org or phone at 402-829-1504 to discuss how your team can start ministering at Open Door Mission.
Please Read Open Door Mission's Volunteer Standards & Guidelines HERE