VOLUNTEER ORIENTATION / TOURS
Open Door Mission would love to have you join our volunteer team!
Volunteers are an integral part of day-to-day operations serving the hungry and homeless. Your help becomes HOPE!
Join us for a one-hour presentation and optional tour for a COVID-19 update, volunteer self-scheduling instructions, and information on the different opportunities to be safely involved at Open Door Mission!
Fill out this form if you'd like to sign-up for a Volunteer Orientation / Tour!
AVAILABLE DAYS FOR ORIENTATION / TOUR
Thursday, October 22
6:00 PM
Saturday, October 24,
9:30 AM
Tuesday, October 27
9:30 AM
Thursday, November 5,
6:00 PM
Thursday, November 12
6:00 PM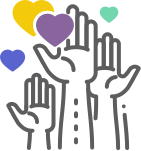 More Information
Please contact the volunteer department by email volunteer@opendoormission.org or phone at 402-829-1504 to discuss how your team can start ministering at Open Door Mission.
Please Read Open Door Mission's Volunteer Standards & Guidelines HERE