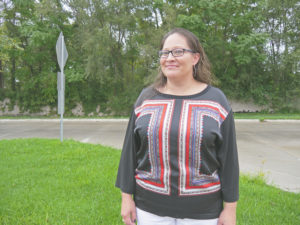 Casey grew up in central Nebraska and has a father who was an addict. By age nine Casey was an addict too. She launched into a 30-year roller coaster of addictive behaviors, criminal activity, and unhealthy relationships.
When her daughter fell ill and was in need of a heart transplant, Casey was disheartened. A close friend encouraged Casey to pray for her daughter's health. "My prayers were really simple," said Casey. "'God, please help fix my daughter!'" That friend prayed with her through the crisis, and her daughter is now a healthy teenager. Despite knowing that God had answered their prayers, it still took another 13 years for Casey to fully trust Him.
Just one year ago, Casey was in the middle of an in-and-out jail cycle. Casey knew that a big change was in order, or the next time she was sentenced would mean years in prison. "I needed to resolve that miserable feeling I'd had in my life since I was a little girl," Casey said. "I'd been so unhappy for so long in my addiction.
"It was time for a new me. I decided to sober up. My best friend who had prayed with me during my daughter's health crisis kept suggesting Bible passages for me to read. And when I had the decision to choose between going home and coming to Open Door Mission, I chose the Mission. Open Door Mission has saved my life.
"I started attending church regularly. I've been baptized. I even earned my GED after lots of hard work. I've learned to be honest with myself, my peers, and my children for the first time in my life. God has given the gift of a new me. I have become a Godly woman who loves to encourage others daily while being merciful, strong, and faith-filled."
Today, Casey volunteers as a shuttle van driver for Open Door Mission and daily looks forward to life as a new creation in Christ. "I will be sober during the holidays for the first time in many years. I know Jesus will give me the strength to stay clean and freer than I've ever been. Thanks to the power of God and His work at Open Door Mission, I have a gift inside that can never be filled with drugs."
Thank you for your generosity and prayers that continue to change lives to the glory of God.
Invest In a Life Being Changed
Your donation helps us offer more than 40 programs breaking the cycle of homelessness and poverty.