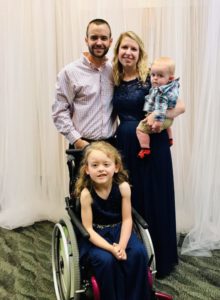 A warm bed, a pair of shoes, and Christmas gifts for his daughter. These gifts Haden freely received inspired hope for lasting change in his life.
Growing up, Haden's family moved a lot due to his father's job, and at each school, he was bullied. During his teenage years, Haden's mother fell ill, which was difficult to cope with during his most formative years.
Depression set in, and Haden began experimenting with drugs with friends. After high school, Haden's addiction grew, and his life revolved around partying and drinking. Haden was even taken to the hospital after harming himself.
Haden came to Open Door Mission after being having been kicked out by his family because of his addiction. After a few weeks, his parents took him back home, but the weight of being away from his own family, who he was unable to see, led to his drinking once more.
So Haden returned back to Open Door Mission, this time ready to make a lasting change.
"Pat, the Men's Emergency Center Director, took me on a tour of the Mission," said Haden. "He told me that all of this exists only by the grace of God, and the truth of that has stuck with me. He got me a pair of socks and shoes because mine had holes, then sat me down in his office. Pat told me that even though I want to see my parents and my daughter, now was the time to focus on myself. So that's what I did."
Haden joined the Journey to Work Program, which equipped him to get back into the community and hold down a job. He developed strong relationships with the staff and other men.
"I would put together kits for newcomers with toiletry items just to say, 'I love you, and I'm glad you're here,'" said Haden. "It would be the highlight of my week because I'd remember Pat giving me those shoes. It might seem like such a small thing, but unless you've been in that place, you don't realize how much you appreciate those little things."
Haden's family invited him to spend Christmas with them, which was the beginning of mending those broken relationships.
Haden and his family were recipients of the Adopt a Guest program, meaning he was able to give gifts to his little girl.
"Getting gifts on Christmas was a huge deal," said Haden. "I was so proud to be able to give my daughter Christmas presents. Thank you to those who adopted us."
Since Haden's time at the Mission, the Lord has shown up in his life in countless ways such as meeting and marrying his beautiful wife (officiated by none other than Pat), successful surgeries for his daughter, the birth of his son, and so much more.
"Six years ago I was at the Mission," said Haden. "Now I have a job, a home, two amazing kids, and a wonderful wife. It's just incredible. I still have moments when I get to tell people where I've been that I'm so grateful for all I've gotten – that there is food on my plate every night. I don't deserve it, but God put it all together and made it all possible."
Invest In a Life Being Changed
Your donation helps us offer more than 40 programs breaking the cycle of homelessness and poverty.