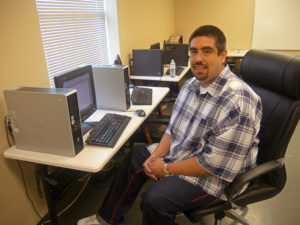 Erick's love story has a happy ending. But it did not always seem like it would.
Born in Omaha, Erick grew up living with his grandparents, who he looked up to immensely. They raised him with good values and took him to church every Sunday. His grandfather, however, struggled with alcoholism, and one day received a traumatic head injury from drinking that permanently put him in a nursing home. Erick was only ten.
This hurt Erick deeply, and he turned to gangs and drugs instead of dealing with this new reality. Then at the age of 12, he had a bad infection that required an emergency surgery, to cut off the nerves on the right side of his body, leaving him in the hospital for five months. He had to learn to walk and talk all over again.
While still adjusting to these physical changes, Erick received news that his grandfather had passed away.
"This time, I got deep into gangs, started doing harder drugs, dropped out of school, and stole cars," said Erick. "I moved in with a friend from my gang because I felt more loved by them than the rest of my family."
Across the street from his friend's house, Erick met the love of his life. They've been together for ten years. Being with her encouraged him to get a job and start cleaning up his life, but when he heard that his grandma had passed away, he regressed yet again.
Just over a year ago, Erick was arrested in a high-speed chase in a stolen car. His girlfriend brought their daughter to visit him and told him that this was the last time. Things had to change.
"So I really started praying and reading the Bible," said Erick. "I really wanted to change. I didn't want to lose my daughter or my girlfriend."
Erick was facing several years in jail, but because he was under the influence when arrested, he asked the judge if he could join Open Door Mission's New Life Recovery Program instead. The judge granted his request.
Erick arrived five days before Christmas in 2017 with the single request of seeing his family before Christmas. His case manager granted that request as well, and that was when Erick believed God was answering his prayers.
"I thought that if God did this for me, He can definitely change my life," said Erick. "Now, ever since, it has just been blessing after blessing.
Today, Erick has received his GED, is a graduate from the New Life Recovery Program, and is a husband. He was able to marry his girlfriend of many years right after their graduation ceremony!
"I'm so excited to get back into the community and be a good father, good husband, and good man – just like my grandparents raised me to be," said Erick. "I can finally do it because the staff here at Open Door Mission helped me open my eyes to see that Christ has been here the whole time."
Erick plans to go to college to begin a career he can support his family with. His prayer now is for his family to follow him to Christ, especially his daughter.
Thank you for giving people like Erick who are hungry for new life the chance to see Christ.
Invest In a Life Being Changed
Your donation helps us offer more than 40 programs breaking the cycle of homelessness and poverty.