Make Christmas Brighter For Your Neediest Neighbors
It's that time of year again!  Our hope is that Open Door Mission can count on YOU to make Christmas brighter for those experiencing homelessness.
Here's what you can do:
1.  Sign up below and you will be paired with an Open Door Mission guest.
2.  You will receive his/her wish list.
3.  Purchase gifts.  (We ask that you spend a minimum of $75 – $100 per guest.)
4.  Deliver your new, wrapped gifts on Sunday, December 20, or Monday, December 21.
Gather your family and friends together and make Adopt a Guest an annual tradition at your Mission, Open Door Mission!  
Fill out this form to get started on being an Adopt A Guest Sponsor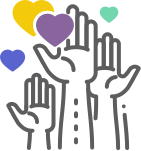 More Information
Please contact the volunteer department by email volunteer@opendoormission.org or phone at 402-829-1504 to discuss how your team can start ministering at Open Door Mission.
Please Read Open Door Mission's Volunteer Standards & Guidelines HERE