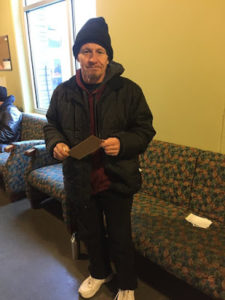 This is our friend Dwayne. He has been homeless, but currently resides at the Garland Thompson Men's Center. Cold days like these remind him of his time on the streets. Cardboard often saved Dwayne's life as he used to construct shelters from the wind or even start cardboard on fire for warmth.
He is thankful for how the Mission provides more than just cardboard for its guests, including himself! He sees so many opportunities for people to get to know God at Open Door Mission.
"Hats off to the staff at the Garland Thompson Men's Center who are always planting seeds for those who are, 'Asking, seeking, and knocking,'" said Dwayne.
Thank you, Dwayne for sharing your experience with us.
Lauren Catlett
Communications Specialist