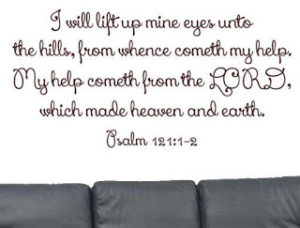 If someone was to walk through your house, what would it say about you?
Would they see toys? Would they see family clutter? Would they see signs of a pet? Would they see remotes and a variety of movies? Would they see Jesus?
The presence of Jesus in a home is vital to Christian growth. Having a Bible on the shelf is good, but taking it off the shelf and reading it is great. Does your home reflect a family time of devotions and prayer? At meal time, with or without guests, do you say a blessing? Does your language at home reflect the persona of Christ?  Is your home a welcoming place for anyone?
Look around your home, what do you see? At Lydia House and the Garland Thompson Men's Center you will see smiles, hear laughter and bowed heads at meal time. Scriptures on the walls show that Christ is the dominate spirit in the "houses at Open Door Mission. Even the Permanent Supportive Housing apartment building's halls are filled with scripture. We are a Gospel Rescue Mission and want anyone that enters that Christ is presence in all we do. Take a walk around Open Door Mission and you will see gospel message and Hope.
Maggie Cope
Donor Relations Coordinator