Did you know that Open Door Mission has a garden? We have a very large garden (14,000 
square feet) that helps provides fresh vegetables to the kitchen. When the plants are first put into the ground they are very sensitive to weather changes, too much rain or not enough rain or is it too hot or cold. They are much like young/new Christians at Open Door Mission, needing lots of guidance and direction. Then comes the weeding…I can't tell you how many plants I mistakenly "weeded" from my gardens that were young vegetables or flowers (that is why I don't use seeds anymore-just plants).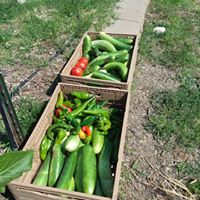 When people come to Open Door Mission for help, whether at the Timberlake Outreach Center or for our programs they are very vulnerable, much like young plants. We know that God sees them as beautiful souls, so we are careful to provide a rich soil, deep in scripture and God's love. The caretakers (staff) are careful to "weed" out bad habits and false ideas, encouraging healthy growth. Our graduates succeed because their new life is rooted and fed in Jesus' saving grace. Our garden outside also benefits from being weeded, and we can always use volunteer help. If you would like to help our guests grow to their full potential in the Lord, you can volunteer to be a mentor or do a Bible study. Make sure you grow where God plants you too.
Maggie Cope
Blog Coordinator