Yet you, Lord, are our Father.
We are the clay, you are the potter;
We are all the work of Your hand. –Isaiah 64:8
This week I have praying more for divine appointments, and the Lord has responded with MANY appointments! Please pray for the guests and tenants we serve at the Permanent Supportive Housing building. I have had many come sharing pain and tragedies in their lives, which provides the opportunity to literally pray without ceasing—every hour I have been praying for someone!
It has been such a blessing to have this opportunity for prayer. There are countries and even American companies where you aren't allowed to pray, but we can do that openly at Open Door Mission! It reminds me too, that we are the clay and God is the Potter. He directs us throughout our day for the purpose of that day! We don't tell God our plans, He tells us His.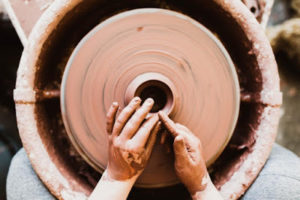 Even though stopping to pray may mean that I don't accomplish everything as quickly as I wanted, merely being a vessel used by God is a privilege. God doesn't have to use us, but He chooses to. And it's awesome to see Him working!
Bob Goff says, "Don't let your plans decide your purpose, the clay doesn't tell the potter what it will be."
We are merely just clay, being molded by God. I never thought I would end up in full-time ministry at Open Door Mission, but God called me here. I pray we are people who allow the potter to mold us into the men and women He wants us to be. The Good News of the Gospel is even if we've blown it and put our priorities above God's, if we humbly come to His feet He will continue to mold us into who He has designed us to be! Jesus came so we can have eternal life, and He is the Hero of the story.
Trudy Woodward
Permanent Supportive Housing Director