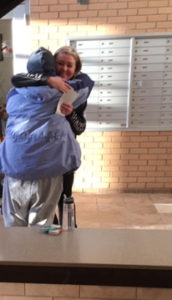 One day at the Mission, a staff member from the Garland Thompson Men's Center brought a family to the Lydia House. The family included a grandfather, father, daughter, and her two children. They came because father wanted help for his daughter who was struggling with drug abuse.
Two of our Lydia House staff members were able to help the young lady say goodbye to her children for the night. The rest of the Lydia House staff members attended to the needs of the other guests (including giving much-needed hugs!) so the family could receive all the attention they required.
If we would not have been as kind and attentive as we were, I do not think this mother would have agreed to give Open Door Mission a chance. She now has an opportunity for sobriety and new life. Ministry is truly a team effort!
Steve Frazee
Senior Program Director