Did you know Open Door Mission has an apartment building?  The Permanent Supportive Housing building is 3 story building, but is really a "bridge". It is a bridge to a life of hope and independence for those that need a safe affordable home.  The 41 units, two and three bedrooms, help keep those in poverty from returning to the streets. At Open Door Mission the Permanent Supportive Housing provides a safe living environment, group activities, learning opportunities as well as having a manager/counselor on staff. The residents can live safely knowing there are no weapons or addictive substances to escalate problems.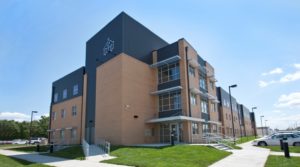 The Permanent Supportive Housing is important because it actually saves the city, county and state money! A study done in 2015 (imagine the savings 4 years later) has estimated the cost of caring for the disenfranchised in a city like Omaha. To provide housing for a single prisoner daily it costs about $87.61, almost $32,000 a year. Providing "residential" housing per person costs $71.46 daily, $26,082.90 a year. Providing care for an individual "documented" homeless person is $96.93 daily, $35,379.45 a year. To provide permanent supportive housing for those homeless and/or in poverty costs $48.25 a day, $17,611.28 a year. These figures represent the costs if the government is maintaining the individual…Open Door Mission uses no tax dollars! Just imagine how much money the Mission is saving the tax payer, not to mention the lives that are changed by sharing the gospel. Yes, the Permanent Supportive Housing residents pay rent for their housing, which works out to a daily cost of 21.37…half of what it costs the government agencies.
Open Door Mission cannot do this alone. We are supported by amazing generous people who donate funds to maintain the building and programs. Gift-in-kind donors that provide everything from office supplies to the clothes on the backs of those in need. There are thousands of volunteers that work tirelessly to keep the Mission running smoothly doing tasks needed daily and on special occasions. Lest we forget, there are the prayer warriors that lift Open Door Mission up to be so wonderfully blessed. Please consider joining in to make a difference in your community and the lives of others…the blessing will be yours!
Maggie Cope
Blog Coordinator