It is summer…a time to get out and enjoy the great outdoors. People go camping and hiking. Children especially love having a picnic. The picnic can be in their own backyard or an adventure to a park. Getting outside is a summer tradition for most families, but what if you lived outside all the time? What kind of picnic do you have if you are homeless?
The summer is no picnic for the homeless. Living outside in the Midwest summer can be brutal with the high heat and humidity; not to mention rain storms and tornadoes. Living in tents, under bridges and abandoned buildings is not the healthiest or best way to spend the whole summer.  When most people go on a picnic they have baskets (or coolers) full of food, everything from PB&J to steak. For so many living in poverty or homelessness having just one sandwich is a blessing. Open Door Mission steps in to help in many ways during the summer.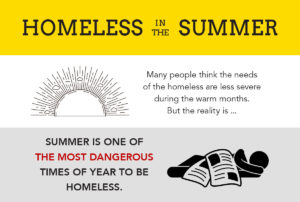 People can come to Open Door Mission's Timberlake Outreach Center to "shop for free" for fans (and if donated working window air conditioners). The Timberlake Outreach Center has summer clothes for all members of the family. A family can shop for food at the Manna Pantry, located in the Timberlake Outreach Center. After shopping they can enjoy a nutritious meal at the air conditioned dining room.
Thanks to the Open Door Mission  Street Ministry families unable to get to the Mission will get to eat also. Every Monday through Friday the Open Door Mission van goes out loaded with 500+ sack lunches (We need volunteers to help make the lunches every Monday-Friday at 9:00 am). They go to the parks, low income areas and even under the bridges making sure there is food for all.
Picnicking in the summer calls for other items besides food. The van also carries cold water to help people cool down and rehydrate. New ball caps or sun shades help protect eyes are given out when we have them available. The donations of sunscreen and lip balm are also on the van, ready to share with those in need. So when you are enjoying your summer picnic, please think about those less fortunate. Donations of everything from food to sunscreen are appreciated as we work together to help all people have a good summer.
Maggie Cope
Blog Coordinator