Open Door Mission relies on the help of our volunteers to share the bounty of their time and talents.   Throughout the year we are blessed to have a variety of volunteers make a difference, sometimes they never see the fruits of their labor. Our garden is a prime example. Volunteers get it ready for planting. Another group comes in and plants the donated plants. Different groups came to clean out weeds and do early harvesting.  In September Taylor oversaw a large group of volunteers do some harvesting and "yard work". Here is his report.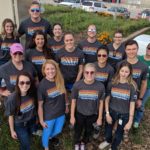 In September we got some seriously needed help. We had 20 volunteers that morning helping in it garden and at the Lydia House expanding the kids outdoor play area. They came from various business centers around Omaha. With their help we were able to knock out some big projects. One of those was harvesting from our amazing garden.
The crew in the garden was able to harvest nearly 200 lbs from the garden just that day! Bringing the week's total well above 250 lbs. The kitchen was very excited to make the tomatoes into some amazing marinara. They have 2200 plus cherry tomatoes to do it with!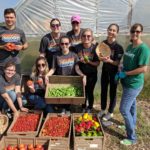 God lines the right people up at the right time. The other crew helped with lots of needed dirt work. We were pulling weeds, pulling up weed trees, tearing up roots, moving mulch, and taking it level. All the while being stalked by a snake and less intimidating… Toad. In the weeks to come we will lay grass seed to have more space for the Lydia House kids to play next year.
Maggie Cope
Blog Coordinator