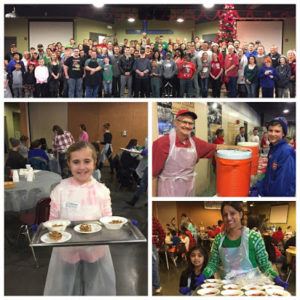 Opportunities for volunteers to serve guests at Open Door
Mission are always a blessing, from Christmas to
New Year's Eve.
As our New Year's Eve Brunch ended, I looked over at one of our residents from Permanent Supportive Housing, Kathryn. She was saying thank you to a volunteer for her service. Then she walked outside to head back to her home.
What I saw next just melted my heart: Kathryn stopped outside the door, stood there for a minute, and then asked to come back in to the Community Kitchen. She walked up to a volunteer who had served her meal and said, "I wanted to tell you that you are very beautiful and thank you for serving me today." She then gave her a hug. The server got a shocked look on her face and hugged Kathryn back.
The rest of the morning I observed this woman and noticed that she was having a hard time getting over the interaction with Kathryn. After the meal was over, I sat down with her and asked how she was doing. She then burst into tears, saying that lately she was having some self-esteem issues and that part of why she was serving today was to get out of herself. So when Kathryn told her she was beautiful, it went straight to her heart. She said, "I came to serve people and in return I was served in a bigger way then I could have ever imagined."
I prayed with her, hugged her, and reminded her that she is important to God. I don't know why Kathryn felt led to tell this woman she was beautiful, but I really feel that was the Holy Spirit moving in Kathryn. This volunteer was truly blessed, and I know that Kathryn was blessed to be a blessing to others! I am reminded once again that it doesn't matter why people come to Open Door Mission—God will move in their lives. Lives are changed every day, including the lives of guests, residents, volunteers, and employees.
As I reflect on 2017 I think of all the moments and people that God has touched and changed here. I think of employees' hard work and dedication to serve those in need. I think of the growth in me as well as in those around me, and I am thankful for the opportunity to work at a place where I can share Jesus with others.
Jessica Coffey
Volunteer Coordinator