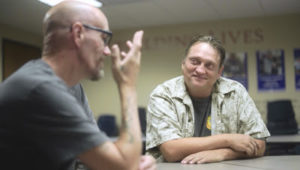 I have been working with a gentleman in the New Life Recovery Program named Eric for about two weeks, trying to be a light for him. Last week we had a little minor conflict, so we sat down to discuss resolution to the problem. Eric felt really bad about what had happened, and the next day he came back to apologize to me. He said that in the past he wouldn't have felt bad about his actions, and that this feeling was new.
This was my chance to share how God guides us and convicts us when we do wrong because He wants more for us. Finally, later that day, I had the honor to pray with Eric and he invited Christ into his heart as his personal savior!
In my new position in the Receiving Area, I have prayed with residents who were struggling, a donor who lost a wife, and a donor who lost a child. And now He used me to lead Eric to salvation–praise God! These are all proof that God uses each and every one of us, putting us where He can best use us.
Shawn Bartlett
Receiving Area Manager