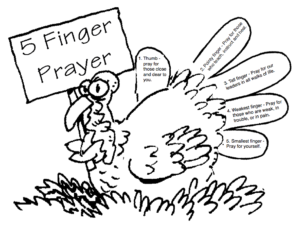 Tomorrow, Thursday November 28th, is Thanks giving Day. It is a time to pause and remember all our blessing throughout the year. It should be a "family affair", where even children can give thanks for the blessings in their life. Prayer and being thankful go hand-in-hand. Praying is just talking to God, not some bombastic oration. Here is a simple way to teach a child or even an adult to pray. It is the Five-finger prayer:
1) Your Thumb is nearest to you So begin your prayers by praying for those closest to you. They are the easiest to remember. While praying for our loved ones is easy the Bible also tells us to pray for our enemies who, in a negative way, are also near us.
2) The next finger is the Pointing Finger The pointing finger reminds us of those who instruct so pray for those who teach, instruct and heal. This includes teachers, doctors, and ministers. They need support and wisdom in pointing others in the right direction. Keep them in your prayers. These men and women have great influence on society and we should pray that they display and teach godly principles in all they do.
3) The next finger is the Tallest Finger Our tallest finger reminds us of those who are in charge. Pray for the president, leaders in business and industry. These people shape our nation and guide public opinion. They need God's guidance, they lead us.
4) The fourth finger is our Ring Finger, the ring finger is our weakest finger. It should remind us to pray for those who are weak, in trouble or in pain. They need your prayers day and night. You cannot pray too much for them.
5) And lastly comes our Little Finger The smallest finger of all, which is where we should place ourselves in relation to God and others. Then we should give thanks for all the blessings we have been given, "Offer to God thanksgiving, and pray your vows to the Most High" (Psalm 50:14) And finally we lay out what is on our heart, the good and the bad, and we pray that God's will be done in our life. The Father loves you very much and will always do what is best for you. Trust Him and He will lead you and cause all things to work together for the good of those who love Him. (Romans 8:28)
Maggie Cope
Blog Coordinator