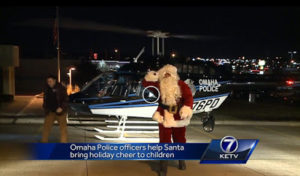 Open Door Mission and the Lydia House have been blessed by the faithfulness of the Omaha Police Union to invest their time and money to develop relationships with children desperately needing to engage with positive role models.
There have been hundreds of friendships established through one evening together during our Shop with a Cop program, but it can end up being so much more than a few hours. There are countless stories that often go untold of officers following up with children on their own time, embrace them into their own family outings, and spending their own time and money on the children's needs and wishes.
I've even heard of these friendships lasting a life time, with officers attending high school graduations, going on college visits, sitting in the family section at weddings, attending baptisms, and etc. Shop with a Cop/Santa's Cop program is all year long for many of these men and women in blue.
Click here to view KETV's story.
Candace Gregory
President/CEO