Open Door Mission has large garden and greenhouse on our campus to provide fresh fruit and vegetables for the 3,000+ meals we serve daily. This year's crazy weather, flooding and wildly fluctuating temperatures made us wonder if we could get a garden in. Taylor shares in his own words how Open Door Mission was able have a great garden, thanks to Sherbondy's.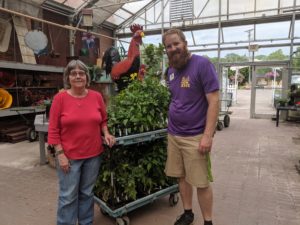 For the Open Door Mission Garden, this season has been pretty interesting. We got a late start on our garden, had a redesign of our greenhouse, and then had lots and lots of rain. Getting the Garden up to par and flourishing has been quite a task. We have had a HUGE partner in Sherbondy's The Garden Place in Council Bluffs. They have given wonderful advice, over 650 plants (Tomatoes of all varieties, peppers of all varieties, eggplants.) fertilizer, advice, advice and more advice all wrapped up in kindness.
In our efforts to constantly be improving what we are doing in our garden, Sherbondy's continues to be an invaluable resource and run by amazing staff with wonderful owners. I looked forward to trips there! If you have ever been to a greenhouse, you have never been to one as amazing as Sherbondy's. Everything is clean, well decorated, cared for and the environment makes you want to sit down and just look at all the unique items around. Its hometown feel is instantaneous. THANKS, SHERBONDY'S!
Taylor Clinch
Guest Blogger