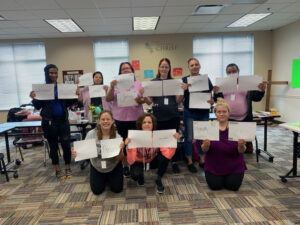 This morning in devotions we talked about Proverbs 22:1 " A good name is more desirable than great riches; to be esteemed is better than silver or gold".
We talked about truly living your relationship with Jesus and not just talking the talk! We also talked about how we are no longer defined by all the wreckage we left behind! 
The ladies wrote their name on paper and then wrote 4 words to describe how they felt about themselves before Jesus and then they did the same for after they met Jesus.  Below are just a few things the ladies wrote down:
Before: Desperate, After: Forgiven. Before: Empty, After: Free. Before: Lost soul, After: Child of God.
Here is a picture of the ladies showing what Jesus has done for them and proof that even a million scars does not change WHOSE you are! 

Written by Shelly McCullough, Lydia House Director