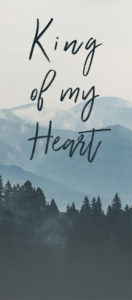 As I am listening to the song King of my Heart, one of my many favorite songs, I came across this article. What a good reminder that we need to strengthen our spiritual hearts! It's easy to get caught up in life and not take time every day to pray and dig in God's word.
The past year I have been intentional about growing in my prayer life, and noticed that I am less anxious, have more peace, and have seen many mountains moved in my life and others' lives. I pray this year that you will be bold in your walk with the Lord, that He moves mountains in your life, and that your prayer life grows deeper and stronger than ever before.
Thank you for being a servant leader at the Mission, whether you're a staff member, volunteer, donor, or friend. Your love for the Lord and all you do for our guests is so important. The Lord is on the move at the Mission and this is going to be a year filled with many blessings.
This is the article by Vicki Heath:
Just as there are certain exercises you can do to strengthen your physical heart, there are spiritual exercises you can do to guard your spiritual heart. You'll be amazed at how a few simple, small steps can have a huge impact on your emotional, spiritual and physical wellbeing.
One of the greatest missionaries of the first century knew the importance of guarding your heart. Paul spent a lot of time in jail, getting beat up and running from town to town in order to tell others about Jesus.  How did he keep from getting discouraged?  He lets us in on his secret in a letter he wrote to his friends in a city called Phillipi:
Do not be anxious about anything, but in everything, by prayer and petition, with thanksgiving, present your requests to God.  And the peace of God which transcends all understanding will guard your hearts and your minds in Christ Jesus. –Philippians 4:6-7
Being consistent in prayer and thanksgiving helps to guard our hearts. When we pray, we are yielding our hearts to God. When we give thanks for all our circumstances, we are yielding our minds to God. The anxiety or stress that causes our physical hearts to go bad is replaced with peace when our hearts and minds rest fully and completely in God's care.
Amy Buss
HR Director