Thank you for serving the homeless population in Omaha. Each night, nearly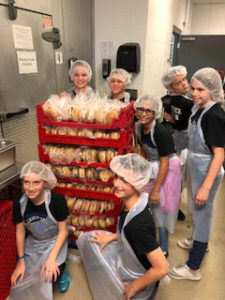 2,000 people in Omaha are without food and shelter, and Open Door Mission helps care for these people. The team at Open Door Mission does amazing things to fight against some of the major problems in this nation like homelessness, poverty, and hunger. You all have helped countless people, created jobs, and provided volunteer opportunities.
Your mission to end the cycle of homelessness and poverty has impacted many lives. As regular volunteers at the Elkhorn Family Donation/Outreach Center, my family and I have witnessed the impact on a community with needs. I have watched generous people give away clothing and personal items that will in turn improve the lives of struggling others in the community. A simple pair of jeans can give hope to someone in need.
Open Door Mission works tirelessly each day to help others. It's amazing how many people you impact and help. I am sure there can be some frustrating times in this job, but know that God will bless each staff member for their efforts to end homelessness and poverty. Someday I hope to be as passionate about my career as the Open Door Mission staff.
Alex
Open Door Mission Volunteer