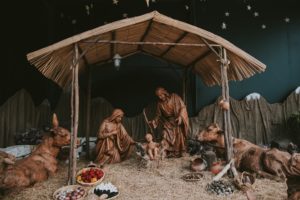 Today I'm at work on Christmas Day.  It's a reminder we have hope in Jesus Christ.  We celebrate the birth of the perfect Savior who is Immanuel–God with us!  It's also a reminder that God brings people here to Open Door Mission everyday that do not have this hope, that are searching, wondering what they believe.
20 But after he had considered this, an angel of the Lord appeared to him in a dream and said, "Joseph son of David, do not be afraid to take Mary home as your wife, because what is conceived in her is from the Holy Spirit. 21 She will give birth to a son, and you are to give him the name Jesus,[f] because he will save his people from their sins."
22 All this took place to fulfill what the Lord had said through the prophet: 23 "The virgin will conceive and give birth to a son, and they will call him Immanuel"[g] (which means "God with us").–Matthew 1:20-23
Just the last 2 days, these are some ways the Lord has brought divine appointments here at Lydia House.
–A mom of 4 kids, her parents and her husband's mom passed away, has a broken marriage with her husband and is desiring to repair it.  When I asked what she believed in she said, "Honestly, I don't know anymore. I know there is a higher power and people say I need to turn to God, but I just don't understand why things like this are happening."  I shared the Good News of the Gospel and shared the hope of Jesus–God with Us and invited her to come to church and learn even more about Jesus.
–A single mom that won't be able to see her kids until tomorrow was feeling sad because she can't see her kids Christmas Day.  I reminded her of the Good News of the Gospel.  That it's not about a day, we can celebrate Jesus everyday and think how blessed your kids will get to have 2 Christmas's.  She then shared about how she has felt spiritually dead and is wanting to grow more and struggles with boundaries.  I shared about being in community and not just attending church but actually getting poured into.  I encouraged her to find people way more spiritually along and older than she is so she can learn from them.  She said she realizes she worries more about others than herself and needs to focus on herself and letting the Lord work in her life.
–A single dad with 2 kids who has made bad choices and struggles to follow rules.  I shared with him the Good News of Christ.  He said I keep making bad choices and I attract the wrong kind of people.  I shared the hope that Jesus brings us.  He said I know but I am Mexican and worry I won't be accepted in Church since the only churches I have been to are all white.  I shared with him some more diverse churches that pick up at Lydia House and said it's about a relationship with Jesus that brings us hope and changes our life forever.  He said he would check them out.
These are some situations you can lift up in prayer, that these people would meet Jesus in real and tangible ways.  I am reminded especially today, but every day that it is about Immanuel-God with us.  It is about bringing hope to those here on Christmas Day and every day they are here.  Hope is not found in social services, having money, having a place to call their own.  It's so much more than that, it's about Jesus because Jesus changes our lives, marriages, homes, hearts, character, behavior and our attitude.  And we have the privilege of sharing that hope with those around us everyday!
Jeff Wilson says: "The Christmas hope (Immanuel) is also a present hope – those who seek God, who come to God through His Son, will be sustained through present sufferings and will know peace and purpose in this life.
So, for grieving widows to abuse survivors to those suffering illness, disease, depression, doubt and fear.
For those who have made bad choices and despair of ever being able to repair what has been broken as a result of those choices.
For those who have experienced or are experiencing heartbreaking and confusing loss.
For those who were not loved growing up and have developed a hard layer to try to deaden the pain and insulate from any more pain.
For the widows alone, unable to sleep at night, remembering nights past and the laughter of family filling the house.
For the parents who feel overwhelmed and wonder how to build a family.
For those who feel insignificant …. lost …. alone.
For those who are weary and ready to give up.
For those who worry that the hour is too late for them to return.
This night, and the birth of this Child so long ago is meant to bring the hope of salvation.
He came to bring light to the world.
He is the gift.
May this gift bring you the hope of the realization that you are loved. The hope that a way to God has been made for you. That abundant life and abundant living can be found even here and even now."
Trudy Cummings
Lydia House Director