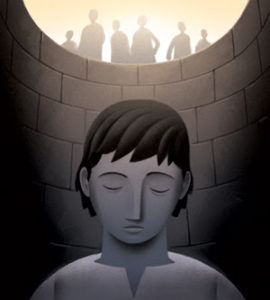 One of our staff members, Dillon, asked me to talk with one of our men in the New Life Recovery Program named Varney. He had Varney waiting in the conference room, so I entered and asked Varney what was going on. Varney read to me the verses in Genesis of all Joseph endured. Then he asked me why Joseph did not seek to get vengeance on those who did him wrong.
As Varney was reading some of the commentary on Joseph's story, tears came rolling from his eyes. He told me about how his mother and father in Africa had abused him growing up. What Varney described was terrible, and it is very difficult to understand how parents can treat their children in unconscionable ways.
I told Varney that I could not even begin to know how to speak to the wrongs that were done to him, but I did share the Gospel of Christ with him. I told him that he has a Heavenly Father that loves him and that God sent His Son Jesus to die for us on the cross. I shared with Varney that all humanity is lost in sin. We all miss the holy mark with God. We discussed this back and forth and Varney came to the place that he asked Jesus to forgive him and come into his life.
Praise God for Varney's salvation. Please keep him in your prayers.
Greg Johnston
Health Care Case Manager