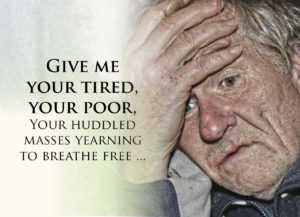 Today, the best hope for the hungry and homeless in our community is found at Open Door Mission. With your help, the weak and weary have a better life.
For $2.15, you can provide a good meal to relieve hunger.
You will give someone the opportunity to hear the Gospel of God's grace.
Any remaining funds provide education, job training and a renewed sense of purpose for our homeless guests
Right now, each dollar you donate will be DOUBLED thanks to a $25,000 challenge match from the Rupert Dunklau Foundation.  Your gift will be double the blessing and double the impact to our neediest neighbors.
You are helping provide HOPE!
People are without a home.  Many  have lost their job (which can lead to losing a home).  But for hundreds of men, women and children experiencing homelessness, Open Door Mission is their home.
COVID-19 has caused an increase in costs for us as we continue to serve our clients.  This means an increase in meals and overall use of our facilities.
Please join us to care for those in need.  They truly need you in these troubled days.  Thank you.  May God bless you.
Double your gift HERE.
P.S. We are now open to volunteers back on campus!  Find the right opportunity for you.  Get more info HERE.