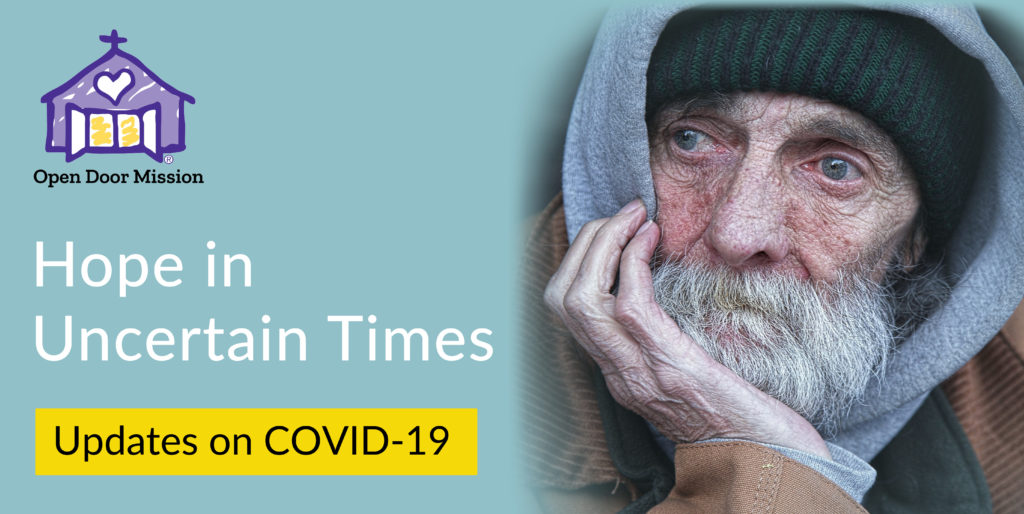 Open Door Mission continues to provide safe shelter and quality care for men, women, and children experiencing homelessness during the COVID-19 pandemic. The well-being of our entire community is our top priority. Therefore, we are continuously taking proactive measures in adherence to CDC, WHO, DCHD and NE. DHHS guidelines to ensure the health and safety of our staff and guests. Now more than ever, we recognize that hope, support of the community, and our trust in God will ultimately sustain us. We invite you to join us on this journey of hope.
What We're Doing
Continuing to provide 917 safe shelter beds to men, women, and children experiencing homelessness.
Screening clients daily. Clients with symptoms will be transported via emergency services to medical facilities for further testing.*
Deep cleaning the campus throughout the day.
Educating our clients on proper hygiene and cleaning protocols.
Pivoting staff to critical duties in order to ensure all client needs are met.
Revisited and refreshed our policies on volunteers serving on-campus in accordance with CDC guidelines.
How You Can Help
Pray for and with us. Pray for the health and safety of our staff, clients, partners, and community. Pray also for wisdom and strength for our leaders and healthcare workers. We would also love to know how we can pray for you. Please share your requests.
Donate urgent needs. We are in critical need of several items including hand sanitizer, antibacterial cleaning products, toilet paper, bottled water, and more. View our urgent needs list.
Give financially. We invite you to support our increasing cost of operations, which include meals, shelter, and elevated use of our facilities. Donate here.
"For God has not given us a spirit of fear and timidity, but of power, love, and self-discipline." -2 Timothy 1:7
Though reports of the coronavirus may foster anxiety, we can have peace, strength, and hope that is beyond understanding because we lean on a sovereign, loving God who created heaven and earth.
Thank you for your prayers and support during this time.