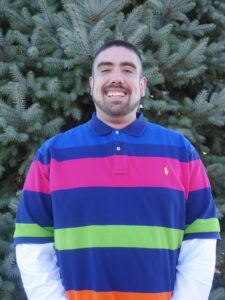 My name is Erick Gomez. I was born and raised Omaha, Nebraska. I lived with my mom Lorraine, stepfather Ines and four sisters. When I was a child, I was abused physically by my stepfather. I felt he did that because I was not his biological child. So, I moved in with my great grandparents Eva and Frank. I then started to attend church almost every Sunday with my grandfather. He also happened to have a terrible drinking problem.
One Sunday when I was 12 years old, my grandfather and I attended church and afterward he took me to my mom's house so he could go to the bar and have a few beers. I argued because I did not want him to go, but he did anyways. Later that day, my grandmother sent my cousin to look for my grandfather because he had not come home yet. He looked everywhere. When he finally found him, my grandfather was unconscious and bleeding from his head. We found out my grandfather fell down the stairs and cracked his head open. He lost his memory, could not walk and he barely talked.
That really hurt. I began to smoke marijuana, drink alcohol, hang around gang members, and involved myself in criminal activity. By this point, I was moving from friend's house to friend's house.
When I was about 16, I got very sick and my mom, who I was staying with at the time, thought I had a flu so she gave me some flu medicine. A couple of days later, I couldn't walk or hold my head up. My mother saw how bad I looked and took me to hospital. They had to do emergency surgery and the doctor said if I was a young kid or an older person, I probably would have died. I then had to learn how to walk and talk all over again.
One day when I was at my mom's house, she received a call from my grandmother saying my grandfather has passed. That really hurt me bad. I once again started drinking, smoking marijuana and doing methamphetamine. I then joined a gang in south Omaha and dropped out of school. This caused me to move in with one of my friends. I met a girl that lived across the street from him named Clair. Together, we had my first child, Alivia. That made me slow down a little and I began to work and try to start a family.
One day, I received a phone call from my mom saying my grandma Eva had passed away due to her age. I did not take that very well and started on my drug addiction again. I began to shoot methamphetamine up and not being at home like a father should.
I went to jail a lot. But this last time they were going to send me to prison for 2 to 5 years for stealing a car and fleeing from the police. I was in jail and my girlfriend and my daughter came to visit me. She told me enough was enough. They were not going be in my life if I did not change.
After that, I switched into the cell called God mod. I began to read the Bible, attend Bible classes and learn about our savior Jesus Christ.
It was December last year I spoke with my lawyer and asked if I could go to a drug program instead of going to prison. On December 21st, they called me for court and the judge gave me a signature bond to Open Door Mission. I could not believe it! My prayers began to get answered.
I arrived at Open Door Mission ready to change my life and continue to find Christ. The blessing began for me. I found my grandfather, John, on my dad's side of the family which I have not seen since I was a little kid. We have a great relationship and he's in my life, my daughter's and my wife's. The last Saturday of October I got my GED and also got married to Clair. I am also planning to attend college to learn a trade in HVAC.
My life is finally coming together. I am a great husband, father, stepfather, and a leader in Christ for my family like I was raised to be.  I want to thank Open Door Mission for everything they have done for me and my family. I would also like to thank my wife, mom, step-dad, and my brothers and sisters of Christ. I would like to close by reading one of my favorite bible verses Psalm 19:14. May the words of my mouth and the meditation of my heart be pleasing in your sight Lord my rock and my redeemer.
Erick
New Life Recover Program Graduate