Every day is a blessing
At first, when you ask me about my journey through the 5 years I've been serving at Timberlake Outreach Center;  I thought oh man do I have so many beautiful, blessing and difficult moments but all worth it. The most important lessons I have learned are in the difficult times, God has taught me a great lesson on humility and humbleness, to think of myself as a LIVING SACRIFICE. That is my blessing not to be here just to serve others, but to mainly SERVE THE LORD as I grow in Him.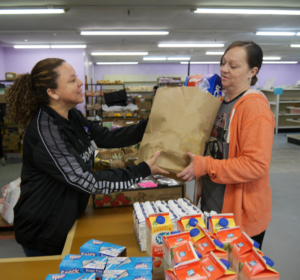 When you have the privilege to serve/work at Open Door Mission it comes with the decision to put yourself aside and let God work in you and through you. Throughout the years I've seen how God blesses everyone month after month as they come to the Timberlake Outreach Center to receive help for their needs, not only physically but spiritually. I've seen people being transformed with the Love of God, which is so obvious throughout the Open Door Mission campus. I've seen miracles, I've seen children grow up, we have cried, we have celebrated, we have prayed, we have shared so many unforgettable memories that I will cherish forever. This joy is not only shared with our guests (Open Door Mission serves the working poor and homeless) but also our volunteers.  Now every day that I come to serve I am excited with the expectation of God what will do today? What divine encounter is next? What will you show me today? I am forever grateful that God opened this door for me.
A Living Sacrifice
12: 1 Therefore, I urge you, brothers and sisters, in view of God's mercy, to offer your bodies as a living sacrifice, holy and pleasing to God—this is your true and proper worship. 2 Do not conform to the pattern of this world, but be transformed by the renewing of your mind. Then you will be able to test and approve what God's will is—his good, pleasing and perfect will. Romans 12:1-2 (NIV)
Maggie Cope
Blog Coordinator