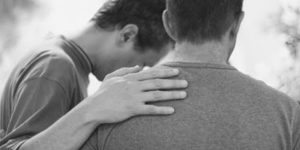 About a month ago, I was a little discouraged with my prayer life. But I continued to trust the Lord each day as I came to work.
There was a guest here that was making great strides in seeking sobriety and loving his relationship with Christ. One day I was greeted by him, but not with the usual excited joyful greeting that he gives. Instead there was a sadness that written all over him. I talked to him for a little bit, and even by the end of the conversation he didn't seem encouraged.
A few hours later, this man came into my office and broke down crying. He was struggling with loneliness and was feeling lost.  I honestly do not remember the specifics about any of what the struggle was, but I do remember what the Holy Spirit did that night.
After we had talked we prayed, and the Holy Spirit fell. I prayed first and I could feel the Spirit, but it amplified (it seemed like 10 times), when this man started praying. But the thing of it was that he did not use fancy words or long phrases. He spoke to His Lord in short statements of what he wanted deliverance from. It was how he felt and the fact that he was giving all of it to God that changed the atmosphere.
As he prayed, the Holy Spirit moved in such an incredible way that by the end, both of us were left in silence and amazement at how the Holy Spirit had calmed all of the negativity that this man was feeling. He said he had never experienced anything like that before.
It left me feeling encouraged in my walk and left him feeling peaceful and calm. It's amazing how God moves in this place, both in using Open Door Mission to provide for people's basic needs, but also in ways that you never would expect.
Corey McClain
RBLC Floor Support Worker