Phi Beta Sigma Fraternity Inc., 15th Annual Sleep Out for the Homeless
Omaha, Neb. – The Alpha Pi Sigma Chapter of Phi Beta Sigma Fraternity, Inc., a predominantly African-American fraternity, will host its 15th Annual Sleep Out for the Homeless on Friday, October 23rd from 9:14 pm until 5:00 am. We will be located on the corner of 72nd and Dodge St, in the Petco parking lot.
One of the fraternity's major program areas is Social Action. Our Social Action program focuses on improving the general well being of disenfranchised people. The mission of the International Social Action Program is to encourage social, political and philanthropic leadership which strengthens our respective communities and our membership by increasing visibility and sense of self-worth by/through serving in the community.
Our goal with this years' event is to raise awareness to the plight of homelessness in our community and to provide a joyous rest of the year to those who these donations will benefit.
This event has been hosted in the Omaha Metropolitan area for the past fourteen years, and two times simultaneously in Lincoln, Nebraska. Phi Beta Sigma takes pride in being an organization that is committed to serving the communities in which we reside.
As we prepare for this years' event we solicit your support by either attending the event or by donating non-perishable food items, gently used clothing items, shoes or monetary donations. As a special from the Open Door Mission, we encourage those who are able to donate size six diapers to do so. All proceeds and donations will benefit and go to the Omaha Open Door Mission.
For more information, please contact Courtney Collins at (402) 707 – 0990 or by email at president.aadsigmas@gmail.com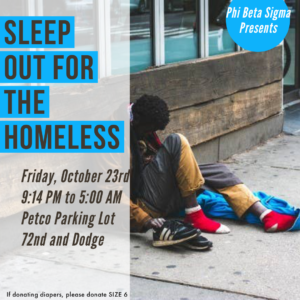 Fraternally Yours,
Courtney E. Collins
President
Alpha Alpha Delta Chapter
Phi Beta Sigma Fraternity Inc.
"Our Cause Speeds on its Way"